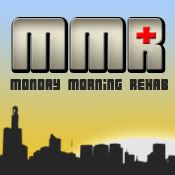 Finally some good news on the Jeremy Maclin front.
After an offseason filled with mystery surrounding an illness, Maclin hit the practice field for the first time since the end of the NFL lockout this past weekend.
The move comes just in time for fantasy owners with upcoming drafts. And those who already had drafted should get their high-upside, low price WR2/3 back in time for the start of the regular season.
Training camp is over and Maclin still has a ways to go from a conditioning standpoint. But now that he is back at practice he should be able to improve physically every day. While he may not see true starter's reps come week one, at least it appears he will be back on the playing field.
Jeremy Maclin [WR, Eagles]
From ProFootballTalk:
Both Jeremy Maclin, who has been dealing with an illness, and Steve Smith, who is recovering from knee surgery, were on the practice field today, the team announced.
Good to see Steve Smith on the practice field as well. Smith is being drafted late or not at all in fantasy drafts. He could be a gigantic steal, especially in PPR leagues. If you are in a really deep league, he might be worth a a pick as a late-round flier.
Peyton Manning [QB, Colts]
From Shutdown Corner:
"I'm right in the middle of it — working very hard every single day," he said. "My trainers and weight coaches have done a tremendous job helping me, and I'm really putting them to work … I have some more left to do, and I still have some time, and I'm going to use that time. At the appropriate time, I think I'll know what the right decision is, and with the help of Coach [Jim] Caldwell, I'll make that decision, and we'll go from there."
Will he or won't he? Manning has not missed a start in ages and has a streak going that could one day threaten Brett Favre's ironman record. Behind him, Curtis Painter look serviceable in the Colts' third preseason game. Kerry Collins was added last week as an emergency option. Quarterback battle in Indianapolis!
Arian Foster [RB, Texans]
From ProFootballTalk:
"Everything was positive today," Kubiak told reporters, a day after the injury.  "It looks like we're dealing kind of with the same thing we were dealing with at the start of camp.  Hopefully get him back on the rehab train and get him ready for opening day.  He'll be day-to-day.  I'll keep you guys up to date, but we feel like we're fortunate."
Good news after a rush of worst fears. From a fantasy owner who has Foster in a keeper league, I nearly single-handedly brought down the internet on Friday night trying to find information on the injury and the status of Derrick Ward and Ben Tate in both of my already-drafted leagues. Might want to knock Foster down a spot or two if you are uncomfortable with the injury risk behind Adrian Peterson and/or Ray Rice. Otherwise, draft with confidence and hope that he truly is day-to-day.
Lee Evans [WR, Ravens]
From FFToolBox:
Baltimore Ravens wide receiver Lee Evans failed to participate in practice on Saturday and was seen with a protective boot on his left foot. Evans wasn't limping or favoring the foot but it appears to be a small injury setback.
Evans has added a spark to the Ravens passing game and is a sneaky fantasy option this year. Hopefully this is not too bad, because rookie Torrey Smith looks lost on the field right now and could not catch a cold the other night against Washington.
Ryan Torain [RB, Redskins]
From FFToolBox:
The Washington Redskins running back situation just became a little more muddled with the return of RB Ryan Torain who had missed the last 24 days of practice because of a broken hand.
Torain has a long way to go now to reclaim a significant role in the Redskins' backfield. Tim Hightower and even rookie Roy Helu have seemingly left Torain in the dust during preseason. I would say only injuries could give Torain the starting gig again, but this is Mike Shanahan we are dealing with here.
The MMR will continue to run every Monday morning as scheduled during the regular season. If you have an injury update or want an update on a certain player, please leave a note in the comments.