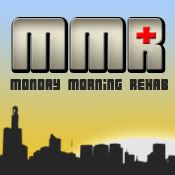 It turns out football players are mortals after all. They may need some girls who have taken online nursing classes to
nurse them back to health. They need to get back out there.
Football players have an uncanny ability to recover from devastating injuries (torn ACLs, concussions, broken limbs) faster than normal humans. So if you followed Jeremy Maclin's saga this offseason and thought what seemed like a simple illness would not be able to keep him off the field, you were wrong.
Just when it seemed like Eagles' wide receiver Jeremy Maclin was poised for a breakout season, his health intervened. It might be easier to determine what effect this will have on his 2011 season if the doctors even knew what is ailing Maclin.
Apparently, they do not.
So Maclin, who was being touted as a low-end WR2 in a lot of fantasy rankings, is seeing a steep decline in his value. His average draft position has been on the decline in recent weeks as fantasy owners have become more vigilant heading into fantasy drafts.
Of course those things are not the most important thing here, as we all want Maclin to get healthy soon so that he can resume his career.
Jeremy Maclin [WR, Eagles]
From ProFootballTalk:
The Eagles wide receiver, who has been struggling with an undisclosed illness for at least five months, left training camp to undergo more testing in his hometown of St. Louis according to WIP's Howard Eskin and the Philadelphia Inquirer.
Hopefully the doctors can give him so good news so that he can get healthy and get back on the field. As a fantasy owner, though, I want nothing to do with Maclin right now.
Maurice Jones-Drew [RB, Jaguars]
From FFToolBox:
Jones-Drew was cleared to participate in the 11-on-11, full-contact drills for the first time in training camp Saturday night.
This is some good news. At least fantasy owners can draft MJD knowing that he is at least practicing for the 2011 season. Now keep those fingers crossed that he has no setbacks during the preseason.
Marques Colston [WR, Saints]
From RotoWorld:
Marques Colston (knee) returned to practice Sunday.
Another player with a nagging knee problem who got back on the field this weekend, Colston is being draft as a fringe WR1. Too rich for my blood, though I would not mind him as a mid-level WR2.
Peyton Manning [QB, Colts]
From ProFootballTalk:
"Doing well, coming along," Caldwell said of Manning, in comments distributed by the team.  "He's working extremely hard at it.  Doing all the little things that it requires to get him where he wants to be.  I think you guys know as well as I do he's ready to go and will be out there because he is chomping at the bit, that's for certain."
This is all good-and-well, but until he gets back on the practice field I am going to be a little skeptical about Manning this year. Not over-reacting to preseason injuries, but Manning showed some signs of aging last season and could be on the decline.
Michael Crabtree [WR, 49ers]
From ProFootballTalk:
The third-year receiver has been walking around training camp with a boot on his injured foot. Matt Maiocco of CSNBayArea.com writes that the coaching staff thinks Crabtree may be "ready" late in the exhibition season, but the staff is likely to hold him out into the regular season.
I really, really, really want to believe in this guy this year because he can be drafted so late in fantasy drafts. But it is hard to trust him after another injury-riddled offseason.
Mike Sims-Walker [WR, Rams]
From ProFootballTalk:
"He's a little sore," coach Steve Spagnuolo said Sunday regarding Sims-Walker, via comments distributed by the team.  "He's weak in the groin.  They didn't do an MRI right now, they're just going to wait.  If it doesn't improve they'll take a picture of it.  He's doubtful going into this particular week's game."
Not good news. Remember all the Rams' receivers who got hurt last year? Is this pattern emerging again in 2011? I really hope not for Sam Bradford's sake.
The MMR will continue to run every Monday morning as scheduled during the regular season. If you have an injury update or want an update on a certain player, please leave a note in the comments.