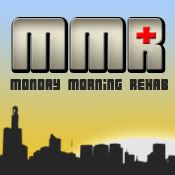 Injuries are starting to mount at training camps, and two star fantasy football prospects have already gone down.
Arian Foster and Andre Johnson, the Texans' dynamic duo and two of the elite prospects at their respective positions, both find themselves on the sidelines this week after getting hurt in practice last week.
Foster's injury is of the hamstring variety, which is a common ailment this early in camp. Having ample time before the start of the season should give Foster's leg time to heal with no concerns, so long as the Texans do not rush him back. And with little help on the roster behind Foster, I doubt Houston takes any chances.
Johnson's injury, however, is a little tricky for fantasy owners. He dislocated his finger and surgery has not been ruled out. If he does have surgery, hopefully it gets done soon so that he has plenty of time to rehab and be ready for the start of the season.
Keep a close eye on both as you head toward your fantasy draft(s) in the coming weeks.
Arian Foster [RB, Texans]
From FFToolBox:
Head coach Gary Kubiak said Saturday that he expects the league's 2010 leading rusher to miss "a few days." Foster characterized the injury as a "tweaked hamstring" and said without hesitation that he is not worried about it.
Sounds like the team is going to play it safe with Foster by giving him some time off. As a Foster owner, I certainly do not mind him not practicing as much this summer to keep those legs fresh for the regular season.
Andre Johnson [WR, Texans]
From FFToolBox:
He left practice on a cart, and head coach Gary Kubiak said he didn't know if surgery will be needed. "We're getting it looked at," Kubiak said of Johnson's finger. "I've got a big lump in my throat like everybody else, but hopefully, he'll be fine."
This is worth monitoring closely. Surgery could keep Johnson out of action several weeks and we really just have about five weeks or so to the start of the regular season.
Ryan Mathews [RB, Chargers]
From ProFootballTalk:
Mathews failed his conditioning test to start camp. Kevin Acee of the San Diego Union-Tribune writes that invited a lock of mocking and "some incredulity" by his teammates.  His teammates describe the conditioning test as fairly easy.
This guy. It was not enough that he ruined fantasy owners' seasons last year, he is trying to do it again this year. The only difference? He is not being drafted ridiculously high, so the burn to owners will not be as bad.
Peyton Manning [QB, Colts]
From ProFootballTalk:
Mike Chappell of the Indianapolis Star reports that Manning was seen "running and throwing" with "decent velocity" this afternoon at Colts training camp.
Good news on the Manning front. I have him fifth in quarterback rankings but potentially sliding further down the board if this neck injury continues to keep him out of camp. The sooner he can get back to practice, the sooner faith can be restored that he will be ready for week one.
Darren McFadden [RB, Raiders]
From FFToolBox:
Running back Darren McFadden broke an orbital bone after apparently taking a helmet to the cheek during practice Wednesday. He is expected to be out for two weeks.
Sounds painful. The good news here is that this is not an injury to his legs, and the time off should help keep him fresh.
Jacoby Ford [WR, Raiders]
From FFToolBox:
Oakland Raiders head coach Hue Jackson told the media Sunday that Jacoby Ford has suffered a broken left hand and could be out for a couple of weeks.
One of only three Raiders worth drafting this season, Ford's injury is a blow to the passing game's development this summer. Hopefully he can get back on the field in time for some preseason action so fantasy owners can see how he is developing in this offense.
Jeremy Maclin [WR, Eagles]
From National Football Post:
The Eagles second-leading receiver from a year ago, Maclin was battling "mononucleosis-like" symptoms earlier this year which forced him to lose 20 pounds, per Jonathan Tamari of the Philadelphia Inquirer. The 23-year-old had put the weight back on, but we've yet to see a report describing what type of shape Maclin is in at the current moment.
Maclin has mono, which is a tricky illness. I would be a little concerned with his conditioning heading into the regular season, as mono tends to make you weaker (hence the weight loss).
The MMR will continue to run every Monday morning as scheduled during the regular season. If you have an injury update or want an update on a certain player, please leave a note in the comments.