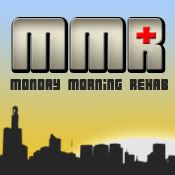 The last preseason game is an awful, AWFUL place for football fans and fantasy owners.
No good ever comes of the last exhibition game for several high-profile football players. So why do coaches insist on having these players play in a meaningless game just a week before the start of the regular season?
Frustrating!
Thankfully, the 2010 NFL preseason is behind us and the regular season starts on Thursday night. The Saints and Vikings square off in a rematch of last year's thrilling NFC Championship game.
With that in mind, this week's Monday Morning Rehab will start with a few guys from that game. Keep an eye on practice participation the rest of the week to prepare yourself for week one and do not forget to set those rosters on Thursday if you have any Vikings or Saints.
Brett Favre [QB, Vikings]
From ProFootballTalk:
Get used to it, folks.  Every week, the injury report likely will include a reference to Brett Favre's oil-can ankle, which per Peter King already is getting shot up with lubricant.

The first injury report of the year has been published by the league, and Favre fully participated in practice with his chronic ankle problem.
Favre will start and the Saints have made it well known all offseason that there is a target on his ankle. Cheap shots aside, I am interested to see how Favre looks in live action for an entire game. My money is on him not finishing this game because I do not think his ankle is close to 100 percent.
Sidney Rice [WR, Vikings]
From ProFootballTalk:
As expected, the Minnesota Vikings placed receiver Sidney Rice on the reserve/Physically Unable to Perform list, a week after he underwent arthroscopic hip surgery.
As expected, Rice will miss a good part of the regular season after undergoing hip surgery. He aimed to be back on the field before midseason and there still is a chance of that. Keep him stashed on your fantasy bench as long as possible.
Fred Jackson [RB, Bills]
From FFToolBox:
Fred Jackson completed the trio by returning to action in limited fashion 18 days after fracturing his left hand. He is out of the cast but had to wear a plastic brace that limited him to just catching passes.
The Bills' backfield is about to get really, really crowded; I hope C.J. Spiller enjoyed all that starting experience he got during the preseason. This three-headed monster is one to avoid, though Spiller continues to have the most long-term value.
Byron Leftwich [QB, Steelers]
From ProFootballTalk:
Leftwich suffered a knee injury during the second quarter of Thursday night's preseason game against the Panthers.  Per play-by-play man Bob Pompeani of KDKA-TV, it "didn't look good."
Leftwich is out and Dennis Dixon is the starter for Pittsburgh's week one game against Atlanta. Hines Ward and Mike Wallace owners may want to avoid starting either this weekend if possible.
Montario Hardesty [RB, Browns]
From ProFootballTalk:
Expected to possibly start this year for Cleveland, Hardesty just returned to practice from a knee injury this week after missing all of training camp.  He looked very strong on a few runs early against the Bears, running seven times for 25 yards and a touchdown before suffering the setback.
Last year, rookie runner James Davis was lost for the season during preseason action in Cleveland. This year, it is Hardesty's turn. And now that Hardesty is out of the way, Davis could find himself with more playing time. He qualifies as an interesting sleeper for the early part of the season.
Michael Bush [RB, Raiders]
From ProFootballTalk:
Jerry McDonald of the Oakland Tribune says that it's "highly unlikely" Raiders running back Michael Bush will be ready for the season opener and could miss "up to a quarter of the season or more."
Ouch. When the injury first happened, there was optimism Bush would be able to play at the start of the season. That appears gone, now. Darren McFadden will once again get his chance to become the team's every-down running back. Will be interesting to see what he does with it this time.
Wes Welker [WR, Patriots]
From ProFootballTalk:
"I still feel like I'm a long ways off from that personally," Welker told Albert Breer of the Boston Globe.  "People say it looks the same.  I don't feel the same.  So I'm not gonna put a number on myself."
Well this does not sound good, but Welker seems to be referring to the psychological aspect of the knee injury. People tend to overlook the mental recovery from injury and are more concerned with the physical recovery. But sometimes, it can take just as long (if not longer) to recover mentally.
Beanie Wells [RB, Cardinals]
From FFToolBox:
He suffered the injury after his second carry and came out of the game one play later. According to Darren Urban of the Cardinals' official Web site, Wells' upper shin was wrapped in ice, but the good news is that Beanie never went to the locker room and said after the game that he is fine.
Ahhh, the injury concern surrounding Wells' young career rears its ugly head once again. Coupled with the news that Tim Hightower is not going away, Wells' fantasy value is on the decline. Still, he finished the season too strong last year to ignore his potential.
Steve Slaton [RB, Texans]
From FFToolBox:
One reason the Texans added Ward was because of some injuries to their backfield, most notably is Steve Slaton. He is dealing with a toe injury and his status for the team's week one game against Indianapolis isn't quite certain.
Slaton is no closer to getting his old job back after Arian Foster's preseason and now his continued struggle with injuries. Add Derrick Ward to the mix and the situation becomes even cloudier. Still worth a bench spot in most fantasy leagues, but not start-able for the near future.
Laurence Maroney [RB, Patriots]
From FFToolBox:
The New England Patriots are eight days away from their 2010 season opener and running back Laurence Maroney is already stacked with boo-boos. According to The Boston Globe via a league source, Maroney has been dealing with a number of issues, including an abdominal strain and groin and ankle injuries.
Too many running backs in the Patriots' backfield, meaning Maroney cannot really afford to miss too much time with minor ailments and expect to have much staying power. Fantasy owners would be wise to avoid the New England running backs at the start of the season until someone emerges.
Donovan McNabb [QB, Redskins]
From ProFootballTalk:
"Yes. Yes. . . . Yeah, I feel very good about him being ready to go," Shanahan told Lindsay Czarniak, via Dan Steinberg of DC Sports Bog. "In fact, I think he'll be able to practice in the next couple of days. And I feel very good about the direction he's headed."
Good start to the week for McNabb's chances at playing this Sunday night against Dallas. Stay tuned throughout the week to see if he is, first, able to practice and, second, active on Sunday.
The MMR will continue to run every Monday morning as scheduled during the regular season. If you have an injury update or want an update on a certain player, please leave a note in the comments.