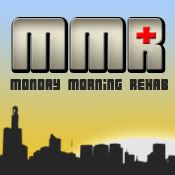 The offseason is an interesting place when Brett Favre gets involved.
So for the second summer in a row, Minnesota Vikings' fans have been held hostage by Favre-mania. For the most part, I think Vikings' fans are glad to have Favre on board considering the alternatives, Sage Rosenfels and Tarvaris Jackson.
And judging by the way three Vikings' players skipped practice and flew down to Hattiesburg, Miss., to lure Favre back this summer, his teammates understand the need for his quarterbacking skills as well. Which is why the Minnesota passing game is an interesting place for fantasy owners.
Sidney Rice clearly led the pack in fantasy value heading into the 2010 football season. Then he had hip surgery. So where do fantasy owners go now for the true value on this team in the receiving corps?
The immediate reaction was Bernard Berrian, the grizzled veteran who comes into this season as healthy as he has been in a while. But things have started looking up — way up — for second-year receiver Percy Harvin, despite what you may have heard about him lately.
Yes, he did pass out at practice. And yes, he was taken away in an ambulance. But since then, there has been nothing but positive news for Harvin. He returned to practice, has not experienced any ill effects from the ambulance incident. And now, it appears as if doctors have pinpointed the cause of the migraines that have plagued his short NFL career to date:
Percy Harvin [WR, Vikings]
From FFToolBox:
But he started Saturday's preseason game and the even better news is that Harvin said doctors have made a breakthrough with his migraines. "I did a test [Friday night]," Harvin said after Saturday's game. "[Doctors] found some things that we think is the main cause of it. We're all feeling really confident. I know we said that a couple times, but I think this time we found what the main cause was.
If true, this is great news. Harvin finally would be able to put the migraine issues in his past, which would allow him to reach his full potential as a fantasy wide receiver. And now that Sidney Rice is out for a significant amount of time, Harvin has a golden opportunity for a breakout season. When 2010 is all said and done, Harvin easily could be the best fantasy receiver on this team.
Ronnie Brown [RB, Dolphins]
From FFToolBox:
Ronnie Brown has been back in action this preseason and is looking like he is in tip-top shape. He even scored against Jacksonville and his second preseason game could not have gone better.
Good to hear that Brown is back to full strength to enter another NFL season. Now if he could only finish a season in good health, his fantasy owners would start to regain some trust in the talented yet brittle running back. Plenty of opportunity in Miami still makes him an intriguing fantasy option.
Donnie Avery [WR, Rams]
From FFToolBox:
The third-year Rams wideout tore his right ACL during Thursday's preseason game, something that was pretty much assumed by Rams coaches after the game. Head coach Steve Spagnuolo confirmed the bad news Friday.
Speaking of brittle, Donnie Avery ladies and gentlemen. Poor guy cannot stay healthy. He has shown some flashes of brilliance during his short career, but has never been able to make the most of his talent — mostly because of health issues. He should be ready for the start of the 2011 season without issue, but fantasy owners will have a hard time trusting him enough to draft him.
DeSean Jackson [WR, Eagles]
From ProFootballTalk:
UPDATE: Andy Reid said Jackson has a "neck strain" and was held out as a precaution.
Nothing to see here. Jackson did leave the game and did not return, but fantasy owners should thank him for removing him from a meaningless game.
Maurice Jones-Drew [RB, Jaguars]
From ProFootballTalk:
But Jones-Drew's agent insists that a report indicating the star running back underwent knee surgery this week is "absolutely false," according to Tania Ganguli of the Florida Times-Union.
Where there's smoke, there's fire? Rumors have been circulating about the health of Jacksonville's best fantasy option. Until the regular season starts — or until MJD returns to practice — fantasy owners may have to hold their breath.
Joseph Addai [RB, Colts]
From ProFootballTalk:
Five Colts players were hurt.  Linebacker Gary Brackett injured his right hand, running back Joseph Addai and cornerback Jacob Lacey have concussions, offensive tackle Tony Ugoh banged up a toe, and defensive tackle Antonio Johnson has a groin, and it's injured.
Addai has had head issues in the past, so this is something fantasy owners should monitor closely. Obviously, Donald Brown is the name to know here. Still, I expect Addai to be ready for week one and have a good fantasy season when healthy.
Dez Bryant [WR, Cowboys]
From ProFootballTalk:
He ran routes for the first time at practice on Thursday and there are signs he could take a few snaps in the team's preseason finale.
Fantasy owners continue to ride the Bryant wave despite the fact that he has not been able to practice or play in the preseason so far. Hopefully, we all will get our first look at Bryant this Thursday in the preseason finale.
Michael Bush [RB, Raiders]
From ProFootballTalk:
On Saturday night, Raiders running back Michael Bush broke his thumb.  On Sunday, coach Tom Cable said that the co-starter will have a "procedure" on the appendage, according to Jerry McDonald of the Bay Area News Group.
Apparently Bush is going to be able to play in week one against Tennessee after undergoing a procedure on the thumb. Fantasy owners are taking Bush as a RB3, so it may be a good idea to keep him on the bench the first week to see how he is able to perform with the damaged thumb.
Knowshon Moreno [RB, Broncos]
From ProFootballTalk:
Running back Knowshon Moreno and wideout Demaryius Thomas weren't expected to play, but Mike Klis of the Denver Post has somewhat worrying news after watching the two in warmups.

Klis writes the two players "don't look anywhere near close to returning. Both are running and cutting very gingerly."
The season opener is too soon for Moreno owners, who still are drafting the running back as a starter in fantasy football leagues. Any owner with a draft from here on out needs to take some insurance for Moreno, who may not be at full strength to start the regular season.
Donovan McNabb [QB, Redskins]
From ProFootballTalk:
Redskins coach Mike Shanahan won't commit to McNabb being available, due to an ankle injury.  "I really don't know for sure," Shanahan said.  "That's why it's day by day.  We'll see how it goes."
Rex Grossman would be the starter if McNabb cannot go on Sunday night against the Cowboys. Not exactly what the Redskins had in mind when they traded for McNabb this offseason. Hopefully for the fans' sake McNabb will be able to play in that game. Fantasy owners should not have too much concern here since McNabb is being taken as a QB2 in most leagues.
Chaz Schilens [WR, Raiders]
From ProFootballTalk:
Here's the thing; Schilens is never healthy for long.  Raiders coach Tom Cable said Schilens may need surgery on his knee, according to the Oakland Tribune.  It seems Schilens has been overcompensating for his surgically repaired foot, which bothered him all of last year.
Not sounding good for Schilens, who continues to battle health issues. The talent is there, like with Donnie Avery, but Schilens just cannot stay on the field long enough to warrant any fantasy value. Of all the Raiders' wide receivers, Louis Murphy is looking more and more like the player to own.
Jimmy Clausen [QB, Panthers]
From ProFootballTalk:
Panthers quarterback Jimmy Clausen, who was bothered by a nagging toe injury for much of his 2009 season at Notre Dame, is struggling with a toe injury again.

Clausen sat out Monday's practice with what the team described as a toe problem.
Clausen looks like a rookie and likely will not play this season, unless things go terribly wrong for Matt Moore and the Panthers. Hopefully he can use all that time on the sidelines to get healthy for the future.
Owen Daniels [TE, Texans]
From ProFootballTalk:
Texans tight end Owen Daniels had his surgically repaired knee examined by team doctors today and said he was told the news is good.

"Scan and MRI say I'm 100%," Owens wrote in a text message to Fox 26.
Good to hear Daniels has been medically cleared for football after some concern he may not be ready for the season opener. Rumor has it the Texans plan on limiting Daniels early in the season by only allowing him to play 15-20 snaps per game. Fantasy owners can use a late-round pick on Daniels and hope for him to reach his upside early in the regular season.
The MMR will continue to run every Monday morning as scheduled during the regular season. If you have an injury update or want an update on a certain player, please leave a note in the comments.