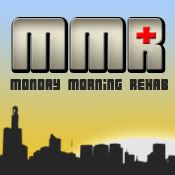 Oh boy.
The change from summer to fall — which officially happens tomorrow — also usually signals the beginning of flu season for much of the nation. Flu shots have been advertised heavily at my office the last week or so.
Similarly, the switch from preseason football to regular season football ushers in the injury bug in a big way.
Big fantasy football names went down this week across the league, regardless of position. One first-rounder did not even suit up to play in week two. Another former first rounder could not get off the ground in week two and eventually succumbed to an injury of his own.
Tis' the season, the season for football injuries.
Marion Barber [RB, Cowboys]
From ProFootballTalk:
Barber was seen sitting on the sideline sitting on his helmet while the Giants drove down the field for the game-winning field goal.  Seemed encouraging.
Barber pulled up lame on this way to the endzone last night and did not return to the game. Felix Jones punched in what would have been a touchdown for Barber.
This could give Jones a chance to start next week, depending on the severity of the injury. Expect more news of Barber's condition sometime later today.
LaDainian Tomlinson [RB, Chargers]
From RotoWorld:
Tomlinson (ankle) was declared out on Friday. Darren Sproles will get the bulk of the work, with Michael Bennett sprinkled in.
Perhaps the Chargers could have used Tomlinson for at least one play.
Late in the game with San Diego driving in Baltimore territory, Darren Sproles was stuffed by Ray Lewis on a 4th-and-2 to end the game. You know the ball would have been in LT2′s hands had he played. And I like Tomlinson's chances at short-yardage situations much more than Sproles'.
Expect Tomlinson to return next week if he can get some practice in this week.
Frank Gore [RB, 49ers]
From ProFootballTalk:
Unfortunately, the inconvenient truth for Gore is that he usually doesn't hold up for an entire season.  Gore sprained his ankle during Sunday's game, but it doesn't sound serious.

Gore said he was "fine" after the game, the injury isn't expected to threaten his status for next week.
Gore had a monster day, but it would not have been complete without some kind of injury. His fantasy owners have come to expect that at this point.
The good news is this does not sound serious. He should be good-to-go for practice by the end of the week and ready for fantasy lineups next weekend.
By the way, the 49ers look for real in the NFC West.
Brian Westbrook [RB, Eagles]
From RotoWorld:
Westbrook came off the field in the fourth quarter, got the ankle looked at and went back on the field. But after one catch, he left again. The severity is unknown, but this is the same ankle that he had surgery on in June.
For the second week in a row, the Saints' defense rendered an opposing running back virtually ineffective.
Last weekend it was Kevin Smith, this weekend it was Westbrook. Trend?
Not only did the Saints keep Westbrook in check most of the day, he also injured his ankle at some point during the contest. There naturally is some concern here being that (A) it is the same ankle he had surgery on this offseason and (B) he is Brian Westbrook.
I would not be surprised to see a "Q" next to his name when injury reports come out later this week.
Mike Bell [RB, Saints]
From ProFootballTalk:
But their euphoria will be tempered by news that their newfound workhorse tailback, Mike Bell, is believed to have an MCL sprain, per Adam Caplan of Scout.com.

Caplan says an MRI is coming tomorrow.
This could end Bell's run as the starter in New Orleans, at least for a few weeks.
Pierre Thomas played in limited action yesterday but Bell again did most of the work. Reggie Bush and Thomas would fill in during Bell's absence, which was the original plan for the Saints' backfield to begin with.
Matt Hasselbeck [QB, Seahawks]
From ProFootballTalk:
According to ESPN's Adam Schefter, Seattle's quarterback is out of a San Francisco area hospital.  Testing indicated that he suffered no internal damage to his kidneys, liver, or lungs.  Hasselbeck suffered no internal bleeding.  That's the good news.
The biggest question mark surrounding the Seahawks' offense this offseason was whether or not Hasselbeck would be able to stay healthy this season.
The question has been answered just two weeks into the season.
There is a good chance Hasselbeck misses next weekend's game. Seneca Wallace would be in line to start at quarterback and is capable of some nice fantasy stat lines. Those in deeper leagues with Hasselbeck on the roster should consider Wallace.
Lance Moore [WR, Saints]
From RotoWorld:
Lance Moore left Sunday's game with a hamstring injury and will not return.
I watched the entirety of the Saints-Eagles game (Who dat?!?) and do not even remember seeing Moore on the field. Apparently, however, he played long enough to get hurt.
No matter for the Saints' offense. Fantasy owners likely used a WR3 spot on Moore during drafts, so there could be some frustration there. However, the good thing is most owners are not relying on Moore for production at this point.
Anthony Gonzalez [WR, Colts]
From ProFootballTalk:
Colts receiver Anthony Gonzalez is reportedly targeting a Week Seven return to the lineup from a knee injury.  Colts coach Jim Caldwell said the injury could force Gonzalez out of the lineup for up to eight weeks, but Gonzalez is hoping to return sooner.
This news is no consolation to Gonzalez's owners, but at least he avoided a season-ending injury.
Pay close attention to the battle between Pierre Garcon and Austin Collie tonight for the WR2 duties vacated by AGonzo. Either or both of those guys could be worthwhile adds in deeper fantasy leagues if they establish a connection with Peyton Manning
Donovan McNabb [QB, Eagles]
From RotoWorld:
According to FOX Sports' Jay Glazer, Donovan McNabb is aiming to return from his cracked rib in Week 3.
McNabb could potentially return for the Eagles week three game but Philly may opt to start Kevin Kolb again.
With a bye in week four, another week off would give McNabb three weeks of rest following the week one injury.
Kolb threw effectively for much of the day against New Orleans in week two and Michael Vick is due to be eligible next weekend. That should give Philadelphia enough muscle at the quarterback position to win a game in McNabb's absence.
Wes Welker [WR, Patriots]
From ProFootballTalk:
Via the team's twitter feed comes news that wide receiver Wes Welker is on the inactive list for the game. The move is a big surprise because the team left three other players who were listed as questionable in New England, as reported by Tom Curran, before heading to New Jersey on Saturday night. That indicated Welker would play, but now the Patriots will likely have to lean more heavily on Joey Galloway.
Julian Edelman stepped into Welker's role seamlessly in the loss to the Jets. It appears the Patriots have struck gold on another previously relatively-unknown football talent.
Welker owners may be slightly discouraged to start the year. He was basically a game-time decision in week one and now misses the second game of the season. The Pats had him sit out most of the preseason slate due to a mysterious injury and now Edelman steps in and performs just as well as Welker.
That could prompt the Pats to keep Welker on the shelf until he is fully healthy from whatever injury it is that ails him.
Jerious Norwood [RB, Falcons]
From RotoWorld:
Jerious Norwood left Sunday's game in the second quarter with a head injury.
Little has been said about Norwood following the head injury, but he was ruled out shortly after leaving the game.
Head injuries can be pretty serious. Expect some type of update today on Norwood's condition, which likely was a concussion although it has not been deemed that as of yet.
Willie Parker [RB, Steelers]
From ProFootballTalk:
At a time when Steelers tailback Willie Parker is catching a lot of criticism for a subpar performance during the regular-season opener, ESPN's Adam Schefter reports that Parker injured his hamstring during pregame warmups, and that he was operating at only 85 percent against the Titans.
So at what point does Fast Willie Parker lose that very nickname?
I would say it has already happened.
Sure he probably is pretty fast all alone in space. But he has been unable to get to space during the first two weeks of the season and could be little more than a service-able, veteran running back. The breakaway speed certainly would be hampered by a hamstring issue.
The MMR will continue to run every Monday morning as scheduled during the regular season. If you have an injury update or want an update on a certain player, please leave a note in the comments.