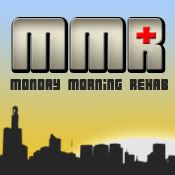 I expected more injury news with the start of training camps, but wow! I could barely keep up with the explosion on information coming out of NFL camps over the last seven days.
It started, mostly, on the defensive side of the ball. But the injury bug quickly spread over to the offensive side of the ball, affecting skill and non-skill players alike.
Of course it is the skill position injuries that brings fantasy owners here to the Monday Morning Rehab on The Hazean. The next few weeks will be crucial to fantasy owners as they prepare final drafts of cheat sheets. Getting the latest injury news on players fantasy owners care most about — quarterbacks, running backs, wide receivers and tight ends — could make all the difference in the world for the 2009 fantasy football season.
So as the summer weeks dwindle to an end, keep it here for all the latest and sometimes not-so-greatest injury updates from around the league. Use this information to stay on top of fantasy leagues in 2009.
This week's injury updates after the jump.
Donnie Avery [WR, Rams]
From FF Toolbox:
Avery's MRI didn't show a fracture, but even if it is a mid-foot sprain or something to that extent, those injuries have a tendency to linger. He may miss a couple of weeks, but this is something that Avery may feel all season long.
Yikes. Avery was flying relatively low in fantasy mock drafts despite being the new No. 1 in St. Louis. It seems fantasy owners had tempered expectations for the second year wide receiver after a relatively inconsistent, albeit promising at times, 2008 season.
Avery did have inherent value as the No. 1 receiver, however, making him a sexy mid-round pick. Now that may be out the window altogether. If this is an injury that lingers, it could severely damage his ability to perform as the team's best receiver this year. Who steps up in the passing game now is anyone's guess as none of the other Rams' wide receivers appear draftable in standard fantasy formats.
Cornelius Ingram [TE, Eagles]
From ProFootballTalk:
The Eagles' worst fears about rookie tight end Cornelius Ingram's knee injury have been realized: The team announced Saturday that he has torn the ACL in his left knee.  Again.
So much for his decent rank among this year's rookie tight ends.
Ingram's second ACL injury to the same knee could be a death blow to his NFL career. Although he may see the field again next year, there is serious doubt now about his ability to remain healthy over the course of a productive NFL career.
While this is terrible news for the rookie out of Florida, those interested in seeing more of Brent Celek this year will get that wish granted. He burst onto the fantasy scene with a terrific postseason last year and should expand his role as Donovan McNabb's new go-to tight end this season.
Hines Ward [WR, Steelers]
From RotoWorld:
The Steelers are limiting Ward's practice reps after investing $22 million in him this offseason, but it has nothing to do with his shoulder or 2008 knee injury.
The old man's body has passed out its share of licks over the course of Ward's career, but also is starting to take some of its own. However, this limitation seems to be only precautionary.
Ward is as safe a fantasy pick as there is and has decent value in the late middle rounds. He makes for a decent WR3/4 in most redraft leagues.
Brian Westbrook [RB, Eagles]
From ProFootballTalk:
If Wednesday's workout is any indication, Westbrook should be ready for the season, as original reports estimated.

Westbrook reportedly participated in football activities for the first time, not letting one intended pass drop to the ground.
Good news for Westbrook, whose average draft position may start to pick up again following these reports. He had been slipping into the second round — well into it, in some cases — in some recent mock drafts.
Conversely, this does a little bit of damage to the draft stock of LeSean McCoy. The rookie was picking up steam in recent weeks with the grim news surrounding Westbrook. Now, however, he may be no more than a late-round handcuff pick for Westbrook owners in redraft leagues.
As frustrating as Westbrook can be with all the injury news and updates and worry constantly cast upon his owners, he generally suits up for the Eagles on a weekly basis. Will that change this year? Those taking a chance on McCoy in the middle rounds certainly hope so.
Tarvaris Jackson [QB, Vikings]
From RotoWorld:
Vikings coach Brad Childress revealed that Tarvaris Jackson (MCL sprain) will don a knee brace when he returns to the practice field.
Jackson has resumed practicing with the Vikings and appears to be OK. So much for Brett Favre coming back anytime soon.
Or maybe not? I know most people are sick of Favre' antics, but I want to see him behind center for the Vikings this year.
Jonathan Stewart [RB, Panthers]
From RotoWorld:
Despite being limited to once-a-day practicing, Jonathan Stewart (Achilles) has reportedly looked "very fast and quick" early in camp.
A few fantasy experts are expecting big things out of Stewart this year despite the emergence of DeAngelo Williams — finally — as a fantasy stud last season. The toe/foot injuries kept Stewart at bay during the first half of the 2008 season, which allowed Williams to stake his claim as the starter. And we all know what happened in the second half of the season.
This year, if Stewart can stay healthy through the preseason, he could start to chip away at some of Williams' playing time. The Panthers did, after all, draft him in the first round a few years ago for a reason.
Braylon Edwards [WR, Browns]
From ProFootballTalk:
After a week on the non-football injury list with a mystery ailment that prompted some to think it was related to George Costanza's involuntary arm spasms, receiver Braylon Edwards is back.
This never seemed too serious, even with Eric Mangini controlling all of the information leaking out of Browns camp.
Edwards should be good to go come the start of the season and this, a contract year, could be a big rebound year for him. Now if the Browns could decide on a starting quarterback for the 2009 season, things might start looking up for Edwards and the rest of the Browns.
Reggie Bush [RB, Saints]
From Nola.com:
New Orleans Saints running back Reggie Bush was held out of practice Monday morning after his surgically-repaired left knee became inflamed following Sunday's two hour, 25 minute workout in pads.
There are daily updates regarding the status of Bush's knee, which has become more popular in the last week than Bush's former girlfriend Kim Kardashian.
It all appears to be status quo for Bush, however. The Saints are taking it easy with him in camp and making sure he gets plenty of treatment on the knee before, during and after practices. Missing a few of the practices here and there is how the Saints are going to treat the now-veteran Bush, and it is in their best interest to make sure he starts and finishes the 2009 season.
Mark Clayton [WR, Ravens]
From Adam Schefter on Twitter:
Ravens WR Mark Clayton has a bad hamstring expected to sideline him 4 to 6 weeks.
The Ravens have since indicated the Clayton could be ready for the start of the season. Missing a good deal of the preseason likely will not hurt his rank among the Ravens' receivers, a relatively deplorable group, but does hurt any chance of Clayton being drafted in standard redraft leagues.
Touted as a sleeper just a few short weeks ago upon the then-retirement of Derrick Mason, Clayton is now back to his previous status of guy-with-a-lot-of-upside-who-annually-underwhelms. Mason returning to the fold was the first body blow to Clayton's ascension and now this injury is the total knockout.
Ben Roethlisberger [QB, Steelers]
From ProFootballTalk:
Steelers quarterback Ben Roethlisberger has been misfiring on plenty of his passes in the early days of training camp.

He says that his arm simply isn't as strong as it will be after he gets some more work.
More bad news out of Big Ben's camp.
However, this sounds like standard fare for veteran quarterbacks with multiple Super Bowl rings. Remember Tom Brady appears on the Patriots' injury report almost every week (if not every week) due to a tired arm. Ben is claiming the same deal here and this should not be of much concern to fantasy owners.
Antonio Gates [TE, Chargers]
From NFL GridIron Gab:
"It feels good, a long time coming for me," Gates said at the Chargers' training camp. "Just being out there and feeling good, being able to do the things I struggled with last year, it feels special to me and it feels like a special season for me."
Good for Gates, who is ready to challenge Jason Witten again this fantasy draft season as the best fantasy football tight end prospect. He should have another great year with the Chargers, especially playing in the NFL's weakest division.
Kurt Warner [QB, Cardinals]
From ProFootballTalk:
Cardinals quarterback Kurt Warner underwent hip surgery during the offseason, and he has been complaining recently about the pain he is experiencing.
Warner is lobbying for some extra time off much in the same way Big Ben is getting some these days. The really old man is just a few hits away from breaking apart entirely, so the Cardinals know that protecting him now is the best way to have a shot to reach the playoffs again this season.
Warner is a super-risky pick in fantasy leagues. He is going fantastically high in most drafts because of last season. But this is a guy who has shown a great deal of inconsistently down the back-half of his career and escaped injury last year for the first time in several seasons. He also avoided the turnover bug that had plagued him in previous stints with the 49ers and Giants.
Warner could regress to non-2008 form very, very quickly. He very well may be the most risky pick in fantasy drafts this year.
Harry Douglas [WR, Falcons]
From ProFootballTalk:
It's always difficult to tell if a camp injury is serious right away, but the signs here aren't great.

Douglas had to be helped by two people to get off the field and onto a cart.
Sad news for Douglas, and up-and-coming wide receiver prospect only dynasty owners could currently appreciate.
He was due to get plenty of action this preseason with Roddy White holding out, but now is an innocent bystander on the sideline. The injury may have facilitated the end to White's hold out, however, which could be the only silver lining in this news.
The MMR will continue to run every Monday morning as scheduled during the offseason. If you have an injury update or want an update on a certain player, please leave a note in the comments.