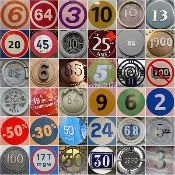 Diamonds in the rough.
It is the same mecca all fantasy owners seek each and every season. Players drafted at bargain rates who end up carrying fantasy teams to championships.
The last great draft day decision is the pride of all fantasy owners. Like a proud parent, fantasy owners bask in the glory of a savvy, calculated value pick.
At fantasy drafts this year, you will hear — in addition to each owner's self-proclaimed best fantasy football team name — the calls of these prideful owners. "Remember when I drafted Steve Slaton in the 15th round last year? That was whack, yo!" and "Philip Rivers in the 10th round, are you kidding me?!?" and "I took DeAngelo Williams three rounds after Jonathan Stewart was drafted. Championship!" are but a few of the many calls which will sound on draft day this year.
Want to join this happy-go-lucky contingency? Then start boning up on the real values in fantasy drafts this year, starting with a deep list of pass-catching talents.
The average draft positions (ADP) for each of the players listed below were taken from two of the leading mock draft sites, Fantasy Football Calculator and Mock Draft Central. ADP current as of July 5, 2009.
Donnie Avery, Rams
Fantasy Football Calculator ADP: 81.1 (Round 7.09)
Mock Draft Central ADP: 82.82
When the Rams traded Torry Holt, it officially signaled the beginning of a new era in St. Louis.
Gone is the Greatest Show on Turf. These Rams no longer are your older brother's Rams. But there still will be fantasy points to go around.
Someone has to be the recipient of Marc Bulger's passes and it may as well be Avery. He flashed some serious skills over the course of several weeks last season and is quickly becoming the best receiver of his draft class.
Lance Moore, Saints
Fantasy Football Calculator ADP: 76.5 (Round 7.04)
Mock Draft Central ADP: 65.52
A fantasy stud for most of last season, Moore is getting no credit for his efforts in 2008.
Is it because of the anticipated healthy return of Marques Colston? Has to be. The Saints did not add anything at receiver to compete with Moore's playing time.
Know that drafting Moore as a WR3 is as good of a value as can be found anywhere. His upside is WR1 as established last season. So when Drew Brees is throwing for 1,000 yards a game again this year, there should be more than enough to go around for Colston and Moore.
Steve Smith, Giants
Fantasy Football Calculator ADP: 152.1 (Round 13.08)
Mock Draft Central ADP: 155.11
Domenik Hixon is the uber-trendy pick among the fantasy public from the Giants' receiving corps, but why? Because of a few big games last year?
Personally, if there is a receiver I want from this group it would be Smith. Even with Plaxico Burress in the fold, Smith and Eli Manning developed a nice rapport. He became the perfect complement to Burress, all the while gaining valuable experience and playing time.
A possession receiver at heart, Smith will be relied upon by Manning heavily over the course of the season. While he lacks some of the blow-up material Hixon is made of, Smith should be the most consistent of all the receivers on this team.
Braylon Edwards, Browns
Fantasy Football Calculator ADP: 43.0 (Round 4.07)
Mock Draft Central ADP: 46.27
Not that Edwards is falling by a ridiculous amount in mock drafts. Fantasy owners still need to use at least a 4th rounder to get him.
But compared to Edwards' ADP last season, 4th round is a steal.
Realistically, I doubt Edwards comes close to 16 touchdowns again anytime soon. But he is the No. 1 receiver in a contract year, so you know Edwards is going to show up. The question is will the rest of the Browns offense.
Regardless, 4th round for a guy with top tier talent, which he flashed just two seasons ago, is a minimal price to pay.
Ted Ginn Jr., Dolphins
Fantasy Football Calculator ADP: 105.0 (Round 9.09)
Mock Draft Central ADP: 110.92
Miami's passing game was surprisingly effective last year without much of an impact player in the receiving corps. It was more smoke-and-mirrors effort than overwhelming talent.
Still, fantasy owners should not completely discredit any of the Miami receivers, particularly Ginn. Quickly a fantasy afterthought after an underwhelming rookie campaign, Ginn has the look of a maturing NFL wide receiver.
Drafting him as a WR4 would be most prudent for fantasy owners. If he can establish himself as the go-to receiver in the Miami offense, Ginn could have quite a few WR2-type weeks.
Percy Harvin, Vikings
Fantasy Football Calculator ADP: 107.6 (Round 9.12)
Mock Draft Central ADP: 127.48
As far as rookies go, Harvin has the look and feel of 2009′s DeSean Jackson. Now if only Brett Favre would sign on that dotted line …
Harvin's chances of living up to Jackson's rookie campaign hinge on Minnesota settling the quarterback position by or early into training camp. Favre would be a huge boost to Harvin's stock as a veteran leader who can get the fall quickly to the fast rook. Similar to Reggie Bush without the "I want to be a running back" drama, Harvin is a touchdown waiting to happen on every play.
Laveranues Coles, Bengals
Fantasy Football Calculator ADP: 85.7 (Round 8.02)
Mock Draft Central ADP: 73.12
While Chad Johnson goes way too high in mock drafts for my liking, the guy who is criminally underdrafted year-after-year slips below the fantasy radar once again.
The new digs should help Coles, actually.
The Bengals figure to play from behind most of 2009. Carson Palmer, at this point in his career, is a much more favorable quarterback compared to Coles' last two (Brett Favre and Chad Pennington). And Chad Johnson should keep a good deal of attention off Coles, who figures to fit comfortably into the spot vacated by T.J. Houshmandzadeh.
Devin Hester, Bears
Fantasy Football Calculator ADP: 93.8 (Round 8.10)
Mock Draft Central ADP: 95.55
I think it is pretty safe to say that Hester's ceiling would be pretty darn low if Kyle Orton was still his quarterback.
Alas, the signal caller in Chicago is now Jay Cutler and that opens some serious doors for Hester. The prototypical deep threat, Hester's maturation as a well-rounded wide receiver is on-going.
But with Cutler at the helm, Hester could see his best season as a pro. Tentatively penciled in as the Bears' No. 1 wide receiver — and that should stick unless Chicago adds Plaxico Burress or Brandon Marshall — 2009 has all the makings of a breakout season for Hester as a receiver.
Anthony Gonzalez, Colts
Fantasy Football Calculator ADP: 57.9 (Round 5.10)
Mock Draft Central ADP: 53.54
Is there another player in the NFL more poised to become a new fantasy star this season than AGonzo?
Counting the ways Gonzalez is a shoe-in for the 2009 Fantasy Football Hall of Fame class: No more Marvin Harrison, so he can step into a starting role on a prolific offense. His numbers have improved each season as a pro despite being the team's No. 3 receiver. Peyton Manning throwing him the ball is sweet. Reggie Wayne and Dallas Clark will keep coverages at a minimum on Gonzo's side of the field.
Yes, that all sounds glorious. Hop on the bandwagon now while the fare is still cheap.
Lee Evans, Bills
Fantasy Football Calculator ADP: 64.7 (Round 6.05)
Mock Draft Central ADP: 60.90
Sure, the Bills brought in Terrell Owens who will do a nice job of stealing the spotlight in Buffalo. But will it deter Trent Edwards from throwing the ball to anyone else on the field?
My gut says no. In fact, I think the addition of TO actually will help Evans this season.
Never before has Evans had such a gravitational force on the opposite side of the offensive line as he does now with TO. Despite all of his antics, defenses will make Owens a top priority if not the top priority. And that should open things up down the field for Evans, who always has excelled as a deep threat.