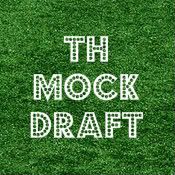 For this month's fantasy mock draft, I decided to participate in a live mock over at the Fantasy Football Calculator. Being that it is May and this is the first live mock I have done so far this year, it is safe to say my performance was a little rusty.
I only went through the first five rounds, which you will see below along with a rundown of each pick. Going into a mock without a legitimate cheat sheet is never a good idea, but I feel like it was not too bad of a start to a fantasy team.
One of the best ways, if not the best way, to prepare for fantasy draft season is to do as many mock drafts as possible. It gives you a feel for what other fantasy players are thinking, helps you anticipate runs and gives a better idea of what players can be had in what rounds. Knowing those three things, along with all the other pertinent fantasy football knowledge, could be the difference between a championship and failing to make the fantasy postseason.
Every fantasy "expert" will tell you that participating in mock drafts now help prepare fantasy owners for the real thing come August. There were several lessons I learned over the course of this mock, all of which I outline after the jump.

Lesson No. 1: Take Michael Turner at No. 4 if he falls to you. Do not be afraid to grab a guy labeled as a sure-fire stud by most fantasy pundits because other people are passing on him. Trendy picks like Maurice Jones-Drew and Matt Forte are cute and everything, but Turner challenged Adrian Peterson's standing as the best fantasy back with a remarkable 2008. And that Atlanta offense is only getting better, which should translate into the same, if not more, opportunities for Turner in 2009.
Lesson No. 2: Trust your instincts. In the second round, I "reached" for Peyton Manning. I say reach because I rarely draft a quarterback in the first four rounds of any fantasy draft, even if I may have gotten Manning below his average draft position.
What I should have done is trusted my gut, which was telling me that a run on wide receivers was about to begin — and that is exactly what happened. My draft should have started out with Turner and Steve Smith, which still would have given me the opportunity to take Ronnie Brown as my second back in the third round.
Lesson No. 3: Wait on a quarterback. Why take Drew Brees, Tom Brady or Peyton Manning in the first or second rounds when guys like Tony Romo, Donovan McNabb, Jay Cutler and more are lasting into the fourth round or later? While it would be nice to have a quarterback with name clout like those three have, the fact of the matter is that a number of quarterbacks end up being as consistent if not more consistent than any of the top guns.
Tony Romo and Donovan McNabb, for instance, likely are going to throw 25+ touchdown passes this year and finish the season as top-10 fantasy quarterbacks. When you can get a guy like that in the fourth round or later, it frees up the early portion of your draft to add depth at runningback and/or wide receiver, two of the most fragile and relatively inconsistent positions in fantasy.
Lesson No. 4: Do more mock drafts. Like I said before, mock drafts are a great tool for fantasy owners hopeful of having a great 2009 fantasy season. The more you do, the better prepared you will be for the real thing before the start of the season. Of course mocks are not the only tool, so do not forget to scour the web for important fantasy football information, scout teams as they prepare for the season this summer and keep checking The Hazean's mock drafts, fantasy rankings and fantasy football forums for all the latest information important to fantasy owners.