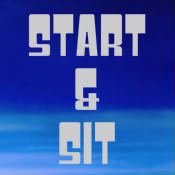 Thursday night football is back again tonight with a huge matchup between a pair of divisional rivals.
Brett Favre and the Jets are heading to Foxboro, Mass., to take on the Matt Cassel led Patriots. New England won the first meeting between these teams earlier this season.
Make sure to set your starting lineup prior to kickoff if you plan on using anyone from either team tonight. The game will be broadcast live on The NFL Network, but fantasy owners without the network can follow all the action on NFL.com.
No start and sit advice for this game this week, as I got to this story a little too late. But let's hear it from you guys: Who should fantasy owners start or sit in tonight's game between the Jets and the Patriots? Is either quarterback a must-start? Will BenJarvus Green-Ellis score a touchdown in his fifth straight game? How will Randy Moss be involved?
Leave your feedback in the comments, and enjoy the game tonight!