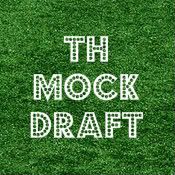 We took some heat for our May fantasy mock draft, but are back for more here in June.
The main criticism others had about our May mock was our tendency to reach for a few players. Jamal Lewis immediately comes to mind, and maybe even Tom Brady. I know Brady will go very early this year, most likely the first quarterback taken in most drafts, but taking him before Brian Westbrook and Joseph Addai is a little questionable at best.
As the 2008 season inches closer, fantasy football leagues are beginning to spring up on all sorts of platforms. I already have maxed out my yearly quota for fantasy football leagues with three — one each of a dynasty, redraft and keeper league. It takes a lot to manage three teams, I do not know if I could do anymore than that!
If you play in more than three leagues, how do you handle all those teams?!?
Haze contributors Blaine Clancy and Aaron Kadkhodai join me for June's fantasy mock draft, which you can see after the jump.
Mock draft order: Blaine, Aaron, Michael.
LaDainian Tomlinson [RB, Chargers]: Considering that the Lightning Bolts had a brand new coach last year and the fact that they started the season off with a 1-3 record, Tomlinson still overcame and was the best fantasy RB in the 2007 season. The Chargers helped Tomlinson's cause this year by signing 10-year center Jeremy Newberry to help replace the injured Nick Hardwick (foot). The 2008 campaign should top his 2007 numbers (1474 yds, 15 TD), but do not expect another record setting year like he had in 2006 (1815 yds 28 TD). LT's receiving ability (475 yds, 3 TD) gives him the edge over Adrian Peterson (268 yds, 1 TD) and, barring injury, he will be a thoroughbred in your stable for the 2008 season.
Adrian Peterson [RB, Vikings]: No doubt in my mind that the Vikings are going to be an even more powerful team riding on the shoulders of this young hoss. Everything about his style of play is perfect for fantasy owners (with the exception of a penchant for injury). He scores, gets yards by the dozen and has a surrounding squad that is only getting better. His personal goals also are encouraging (like wanting to reach yardage benchmarks) because it means that even though he is a team player, he gets — and wants — his. Tavaris Jackson should have some more targets, like Bernard Berrian, to prevent defenses from focusing on the Viking running game, alleviating some of the pressure on Peterson. Look for 20 TDs and 1500 yards rushing from this dominant back.
Steven Jackson [RB, Rams]: SJax threatened to take the crown from Tomlinson last summer in fantasy football drafts, much like Peterson is trying to do this summer. But Jackson fell short of projections last year though he did finish the season strong. I am not convinced the Rams did enough this offseason to become a better football team on offense, but the defense should be improved. As long as Jackson stays healthy, he will put up number to rival the top backs. But his health and subsequent success all depends on the play of the Rams' offensive line.
Brian Westbrook [RB, Eagles]: Westy has been a consistent fantasy back for the past two years. He is the most important guy on the Eagles, and it is obvious by his involvement in the offense. For the 2006 season, 32 percent of the offensive plays involved Westbrook. His involvement jumped to 35 percent in 2007. Being able to touch the ball that much means he is guaranteed to produce stud-like fantasy numbers. Also, his versatility in the backfield makes him a viable threat in any type of formation run by the Eagles.
Joseph Addai [RB, Colts]: Here is the thing with Joe: He is reliable and he is on a great team. Unfortunately, there are some dangerous downsides, because as we all know he is prone to missing a few games to injury each season. I like that — even though his rushing-yard numbers did not improve drastically — his total touchdowns went up. And as Marvin Harrison and Peyton Manning get older, the team is slowly but surely forced to be more balanced with a stronger reliance on the running game. There are probably a few backs behind him on the list that will outperform his numbers, but, if he stays healthy, he is a guarantee to get 1000 yards rushing and a TD per game.
Tom Brady [QB, Patriots]: Boy, this is going to be the tough spot in redrafts this year. After the top five backs are gone (see above), things get a little hairy here for fantasy owners. Now you are talking about taking a gamble on a second- or third-tier runner, or grabbing a top tier quarterback or wide receiver. Given that at least one quarterback usually is taken in the first round of any redraft, this is a good spot to grab Brady, this year's top quarterback heading into the season.
Marion Barber [RB, Cowboys]: The Cowboys are one of the most explosive offensive teams in the league right now. And finally, Barber is going to benefit from being the No. 1 back in D-town. Wait, you mean he was the No. 2 back on the depth chart and put up 12 total TDs in 2007? I cannot wait to see what he does when he gets more than just 12.75 carries per game. Not to mention this guy does not go down after initial contact either.
Randy Moss [WR, Patriots]: Despite the fact that there are other great backs out there, Moss is easily the best receiver for fantasy. Barring a major meltdown, if the Patriots perform 75 percent as well as they did last year, Moss still is going to have the best receiver numbers out there. Just hard to find a receiver that can put up numbers as consistently. With Ben Watson at tight end, Wes Welker helping in the slot and a solid running game from Laurence Maroney, they Pats are the new Colts and Moss is the new, better Harrison. And we all know what Harrison's numbers were before he started getting injured.
Larry Johnson [RB, Chiefs]: I took Larry Johnson at No. 9 last month, and I will do it again here. The decision came down to LJ, Frank Gore and Clinton Portis and it was a tough one to make. LJ, though there are so many question marks on that team, has the most upside of any of these guys. And if he is going to give it another go as a fantasy stud, this might be the season. It is a gamble, but worth the risk here at No. 9.
Clinton Portis [RB, Redskins]: I am taking Portis for the exact opposite reason. There are too many question marks for the other guys (Gore with a new offensive system, Lynch with legal issues). I could have gone with Peyton Manning, but Portis is one of the last couple RB1s on the board, and he presents a good value with little risk.
Jamal Lewis [RB, Browns]: I think he is one of the most underrated running backs this year.  He is 28-years-old (29 when the season starts) and I think he has one or two more great years left in him. He is getting to that age that Priest Holmes and Shaun Alexander were at when they made their marks. If the Browns have a better year than last (which is likely), then he will get some serious numbers.  Well-balanced team with a lot of desire to prove their worth. I like this pick.
Frank Gore [RB, 49ers]: This is a good start here at the turn. The Gore hype machine was out of control last year as his fantasy stock soared to the upper half of the first round. This year, his value is a little better and getting him at 12 could prove to be a steal. Health always is a concern, but the health of the 49ers' offense may be the biggest concern with this pick. Still, Gore figures to be a big part of that offense, anemic or not.
Get your subscription to The Hazean for just $0 a month! You can subscribe to The Hazean by email and have this stuff in your inbox seconds after I post it or you can subscribe in your feed reader or on your home page. Either way you get all the fantasy info you need fast and easy. But hurry because this offer may not last forever!*
Don't understand this whole subscribing thing? Check out this short video on RSS courtesy of my friend The Fantasy Football Goat. Isn't technology great?
*This offer will last forever